Horn of Plenty Slot is considered to be a 5 reel non progressive Bet On Soft Video Slot which offers 50 different pay lines to the players. It is available with free spin, scatter symbols and also wild symbols. The maximum jackpot which can be won here is $5,000.
About Horn of Plenty Slot
Now days, almost all the games are coming with high flash graphics which is becoming quite boring for the players now. The players sometimes like to play on graphics which are very low and they also prefer games which have more ordinary slot features than the hi – tech features which are very famous now days. When a player gets an urge to play on features which are juicy and fruity, Horn of Plenty is the best option.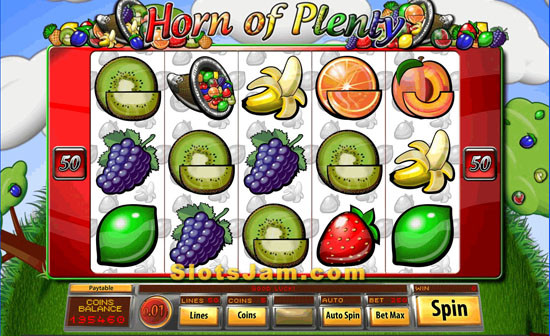 Horn of Plenty Slot is a combination of classic slots which introduces the different fruit symbols which include plums, oranges, cherries, grapes, lemon, water melons, kiwis, peaches, bananas, strawberries, pineapples, etc. This can be played on five reels and with 50 different pay lines. The special features of Horn of Plenty are it comes with free spins, scatters, wilds and multipliers which helps the players to win good prizes. One of the irritating or down fall factor of Horn of Plenty is its sound system. Initially, the sound system is good but after sometime it gets irritating for the players.
The best feature is it provides different kinds of pay lines to the players. There are also different kinds of bets from which the player can select their preferred bet. The bets can range from $0.01 to $0.25. This also allows the players to place the wager for 5 coins. They can also increase or decrease the bets according to their needs and wish.
Special Features
The best feature of Horn of Plenty is that the designers have kept the features and the themes of this slot very simple. One of the first features is the wild Horn of plenty symbol which normally appears on the reels and also replaces some other regular symbols so that the player can win more.
There are normally two scatters which can be found here, one is the watermelon scatter who only plays a role of paying the amount and another scatter which can be found here is the lemon scatter which brings 10, 20 and 30 free spins for the players. All this is available multipliers without which this video slot won't become a success. The multiplier does not commit any kind of mistakes and also makes the players win huge amount of prizes.
Horn of Plenty Slot is a very refreshing and simple release of the video slots by Bet On Soft. This is just a relaxing video slot which makes the mind of the player refreshed.
You can play The Horn of Plenty Slot in these casinos
[P-FILTRATOR FILTER="FDDF071EC6F983A69EF552E012ABB2C6″ FILE="casinos.xml"]